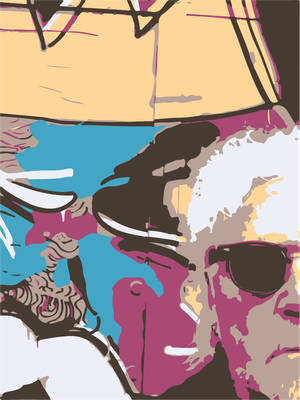 About D.L. Byron
Raised by his adoptive parents in southern New Jersey, D.L. Byron (born David Byron) became enamored with the Beatles, the Byrds, and Bob Dylan at an early age. When he wasn't busy getting thrown out of a string of exclusive prep schools, Byron formed several teenage garage bands and won a number of poetry competitions. Deciding to pursue his music career in earnest, Byron moved to New York City in February of 1971. After working briefly at the Colony Record shop (located on the ground floor of the Brill Building) and living in a $45 per week fleabag hotel, Byron managed to catch the tail-end of Tin pan alley, procuring a $75-a-week job as a staff writer for E.H. Morris. While there, he met and was influenced by greats like Harold Arlen, and began to perform at open mike nights around New York. In 1979, Clive Davis and Arista discovered Byron and signed him, hoping to find success with an American version of Elvis Costello or Graham Parker. In 1980, Byron released This Day and Age, which became an instant power pop classic.
E.H. MORRIS (MPL)  
Staff writer 
ARISTA RECORDS  
Signed by Clive Davis;  
Released solo LP "This Day and Age",  
Produced by Jimmy Iovine.  
Top 40 single "Listen to the Heartbeat"  
Video on MTV. 
A.T.I.  
Opening act for Bob Seger "Against the Wind" U.S. Tour.  
Opening act for Boomtown Rats "Fine Art of Surfacing" U.S. Tour 
R.S.O.  
Performed "You Can't Hurry Love",  
on the soundtrack for the Robert Stigwood film "Times Square" 
ARISTA RECORDS  
Recorded remake of "Down in the Boondocks", 
features Billy Joel on background vocals 
CHRYSALIS RECORDS  
Writer and publisher of the Grammy Award winning "Shadows of the Night".  
Released on "Get Nervous" LP, recorded by Pat Benatar.  
Multi  Platinum 
CHRYSALIS RECORDS  
"Shadows of the Night" on "All Fired Up" Benatar box set;  
Also on "Best Shots", Benatar greatest hits,  
as well as several other Benatar vehicles,  
Multi Platinum to date 
POLYGRAM RECORDS  
Co-writer and publisher of five songs on "Never Run, Never Hide",  
recorded by Benny Mardones.  
Gold to date. 
ZEN ARCHER RECORDS  
Founded an independent boutique label for his own recordings.  
His CD's can be found at CD Baby.com, as well as many other online outlets,   
including his own site Zen Archer Records.  
Be sure to view D.L.'s many friends and fans on his MySpace page. 
RECIPE FOR A PERFECT CHRISTMAS  
"Shadows of the Night" appears in this made for TV film,  
solid runs through the holiday season. 
ROCK OF AGES
In the musical which originally opened in L.A. "Shadows of the Night" enjoys a prominent spot. Eventually this rock musical will enjoy a six year run on Broadway
PICTURE THIS
"Shadows of the Night" featured in film starring Ashley Tisdale